CURATED | Exhibitions at SOPAC
A CONVERSATION
Ann Vollum | Russell Christian
June 7 - September 18, 2014
Herb & Milly Iris Gallery at SOPAC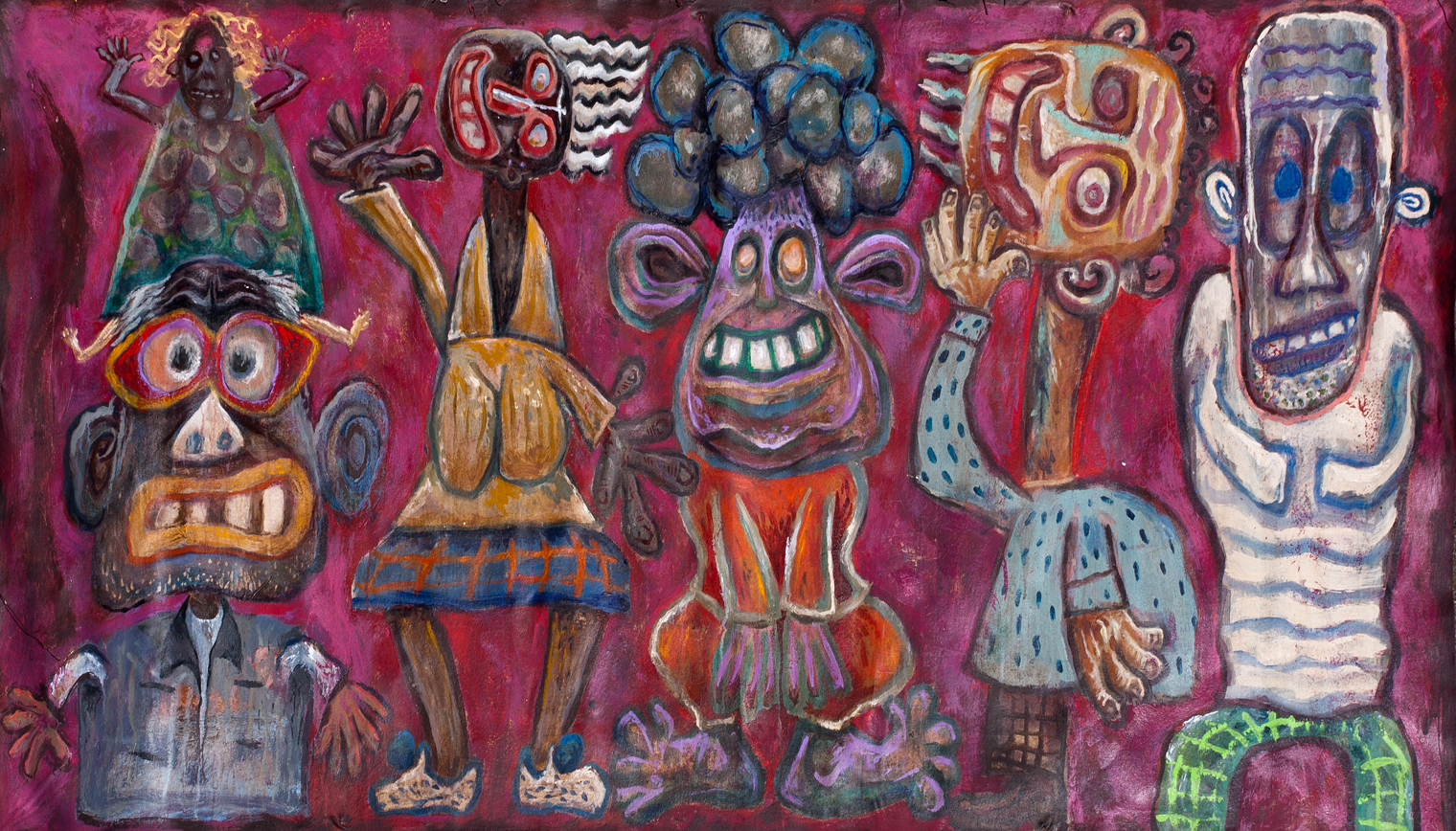 Examining the artworks of Ann Vollum and Russell Christian as a whole, one might sense they are looking at an alternate timeline of human evolution and bio-diversity as filtered through the prism of cultural anthropologists informed with a love for dark humor. If the drawn line is the single-celled organism of all artistic creation, Ann Vollum's Beastly Beasties could very well be the first creatures to have emerged from the primordial muck, while Russell Christian's characters could be considered a record of the bent, bloated and twisted sense of human self in it's gluttonous pursuit of dominance in the natural world. Independent of what subtext or underlying message these images might hold, their works are fun, frisky and easy to enjoy, and should be reveled with the joy and wonder of child-like abandon.
In the bizarre and playful world inhabited by Ann Vollum's Beastly Beasties, the line has evolved into a universe of fantastic creatures and environments intended to be amusing and celebrated. With a dark and off-beat sense of humor influenced by the likes of Hieronymus Bosch, Henry Darger, Tomi Ungerer, Henrich Drescher, Frida Khalo and Ralph Steadman, her fanciful and quirky black ink characters and stories pulsate with the creative spirits of illustrative artists Edward Gorey and Maurice Sendak, and in that tradition often appear in book/booklet form; however, Ann's mixed media works are typically multi-sided, she ornately adorns every available surface and utilizes found objects such as tree branches, and plywood cut-outs. Her work embodies the spirit of Anselm Kiefer and Howard Hodgkin, as well as the ethnic art of African, Native American, Pakistani and Inuit cultures.
In the distorted, funhouse frivolity of Russell Christian's work, his human characters and totemic symbols could be seen simultaneously as escapees and tokens of a circus sideshow or the remnants of émigrés who quickly fled persecution in their homelands. Utilizing traditional materials like canvas and wood while also employing materials such as metals, plastics and found objects, drawing is central to his work as an artist, whether it is thumbnails and cartoons, ideas for paintings, or drawings to describe a potential performance. Strongly influenced by German Expressionism, Outsider Art (Art Brut) and comics, as well as various theatrical forms (Vaudeville, Butoh), his work often shows, in scroll or tablet style presentations, row upon row of characters that range from scribbles and daubs to carefully rendered figures and forms, sometimes of a highly oblique or abstract nature.
About Ann Vollum (Artist)
A South Orange resident by way of Africa, Ann is British by birth and spent her formative years in Zambia, Pakistan and England, instilling in her a deeply rooted fascination and respect for ethnographic art, a style that is unmistakably reflected in her work. Moving to America in 1989, she is widely known for her Beastly Beasties characters. Her work has been exhibited in the UK, locally at GAS Gallery And Studio in Maplewood, NJ, and other notable galleries in the greater New York area.
"BeastlyBeasties are quirky and fun and speak to the child in all of us." — Illana Stollman, MAM.
Ann's work explores the organic meanderings of the subconscious mind, namely it's primal and un-schooled nature. Drawing on her skills in graphic design, calligraphy and architecture, she begins with organic shapes and transforms them with pattern(s) into Beasties that take on a life of their own. She draws directly in ink, and never re-draws, pre-draws or discards. The method is unforgiving, its immediacy and permanency fascinating in the way pattern transforms simple shapes. The challenge is to transform and evolve the line and the shape it makes into something meaningful. Sculpturally, she has explored creating Beasties from driftwood and making "stuffed" Beasties from reclaimed materials. Being environmentally responsible is very important to her, from up-cycling used materials, to painting on all surfaces of a cradled board, to the practices she employs in her studio.
For more information about Ann Vollum, visit beastlybeasties.com
About Russell Christian (Artist)
Russell Christian came to the United States from England in the mid 1980s. Captivated by the idea of art as a medium of self-expression, Russell's earliest artistic influences tended to be German Expressionists, such as Max Beckman and George Gross, as well as the work of eccentric British artists William Blake and Stanley Spencer, and the drawings of Henry Moore. A deep fascination with artist Jean Dubuffet led him to the discovery of Outsider Art (Art Brut), a term that encompasses much including the unmediated art of children, exaggerated expressive forms, picture writing and the raw work of visionary artists working far outside the mainstream. The creative vein he taps in such work courses through the work of many artists he admires including Goya, Jackson Pollock, William Kentridge, and the COBRA artists Pierre Alechinsky and Asger Jorn.
In addition to being a painter, he is also an art teacher, art handler, illustrator and graphic designer. He lives in South Orange, NJ, with his family.
For more information about Russell Christian, visit www.russellchristian.com
About the Herb & Milly Iris Gallery at SOPAC
The Herb & Milly Iris Gallery brings contemporary art to the community, providing artists opportunities to reach new audiences. The Gallery is designed for moviegoers, theater enthusiasts, art lovers, and all citizens of South Orange alike to have an opportunity to further enrich their cultural lives. The Gallery is the impetus of SOPAC Board Member Milly Iris, a South Orange resident and arts advocate. Mrs. Iris has an extensive art collection, is an art teacher, and is the former owner/director of South Orange's Whichcraft Gallery. Along with her late husband, Herb, Milly has been a longtime supporter of SOPAC.
About SOPAC
Since 2006, SOPAC has been serving as a premier performing arts center in the region. SOPAC offers innovative artistic and cultural experiences for diverse audiences in an intimate, inviting environment. The multidisciplinary arts center hosts a variety of live performances, community events and education programs for all ages. To further expand its offerings, SOPAC has a partnership with the Juilliard School of Music to present Juilliard @ SOPAC – a series featuring upcoming musicians from the acclaimed conservatory. SOPAC is also a home for Seton Hall University Arts Council's performances, including Classical Concert Series, Jazz N' the Hall performances and Seton Hall Theatre productions. SOPAC also presents performances by its theater company in residence, Midtown Direct Rep, and its dance company in residence, Lydia Johnson Dance. For more information, visit www.SOPACnow.org.