CURATED | Exhibitions at SOPAC
PRIMAL CONVERGENCE
Gerard Amsellem & Mikel Frank | Dan Fenelon
April 2, 2013 - January 31, 2014
Herb & Milly Iris Gallery at SOPAC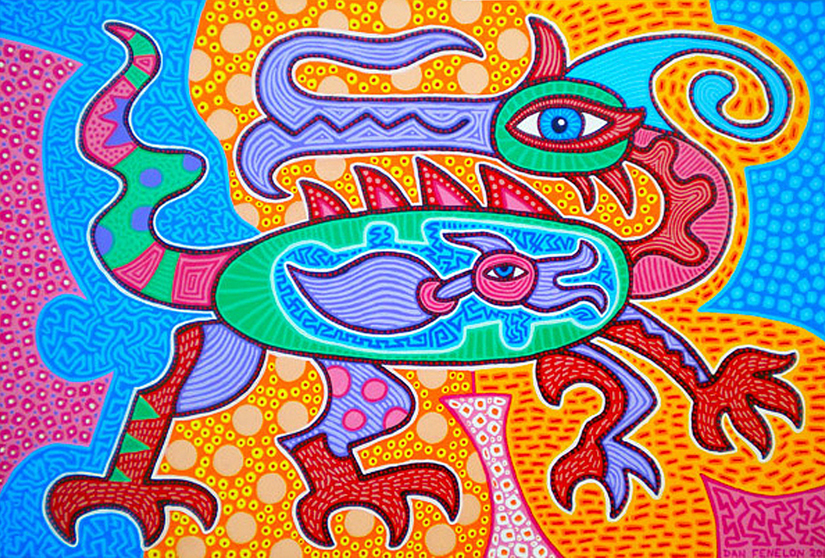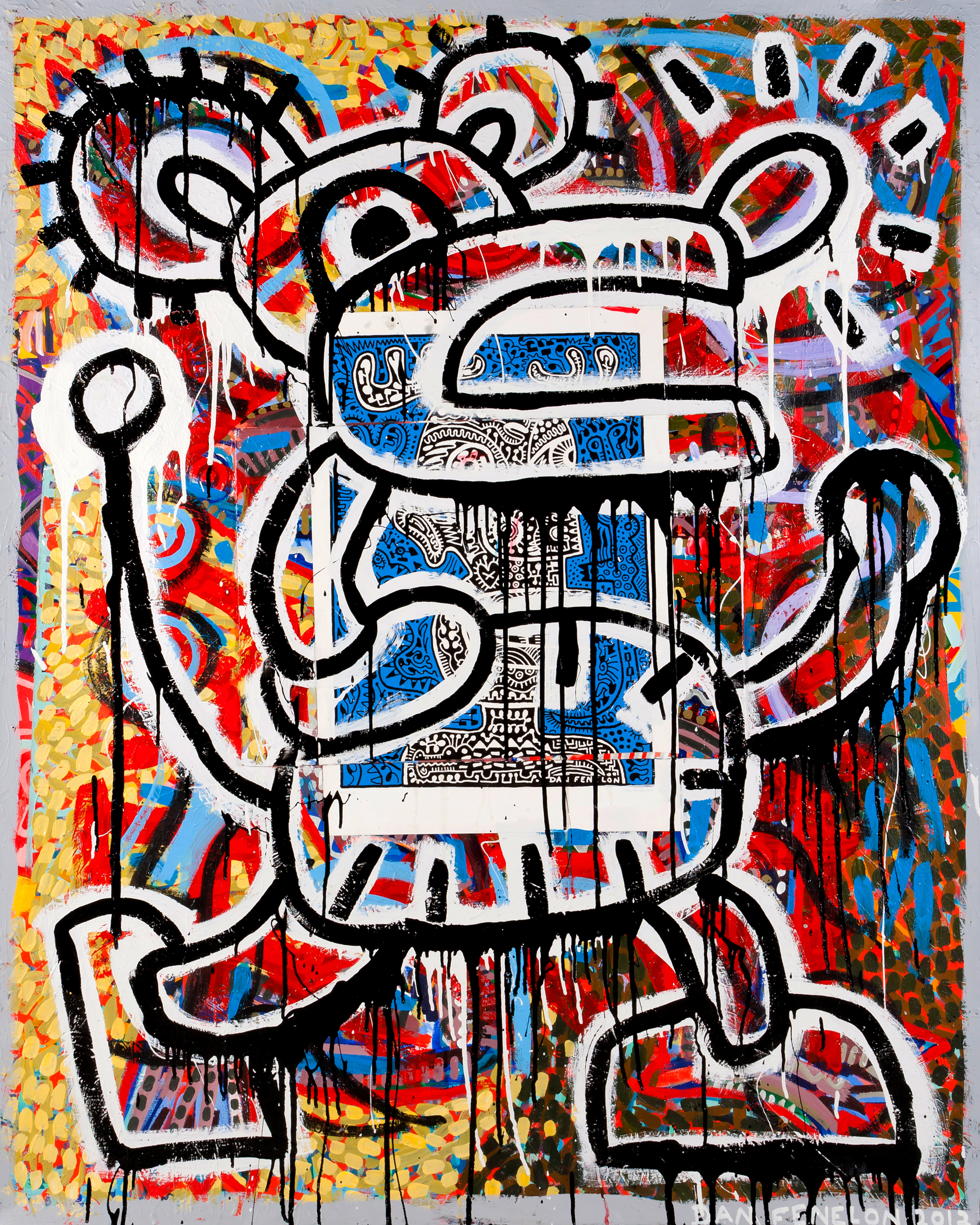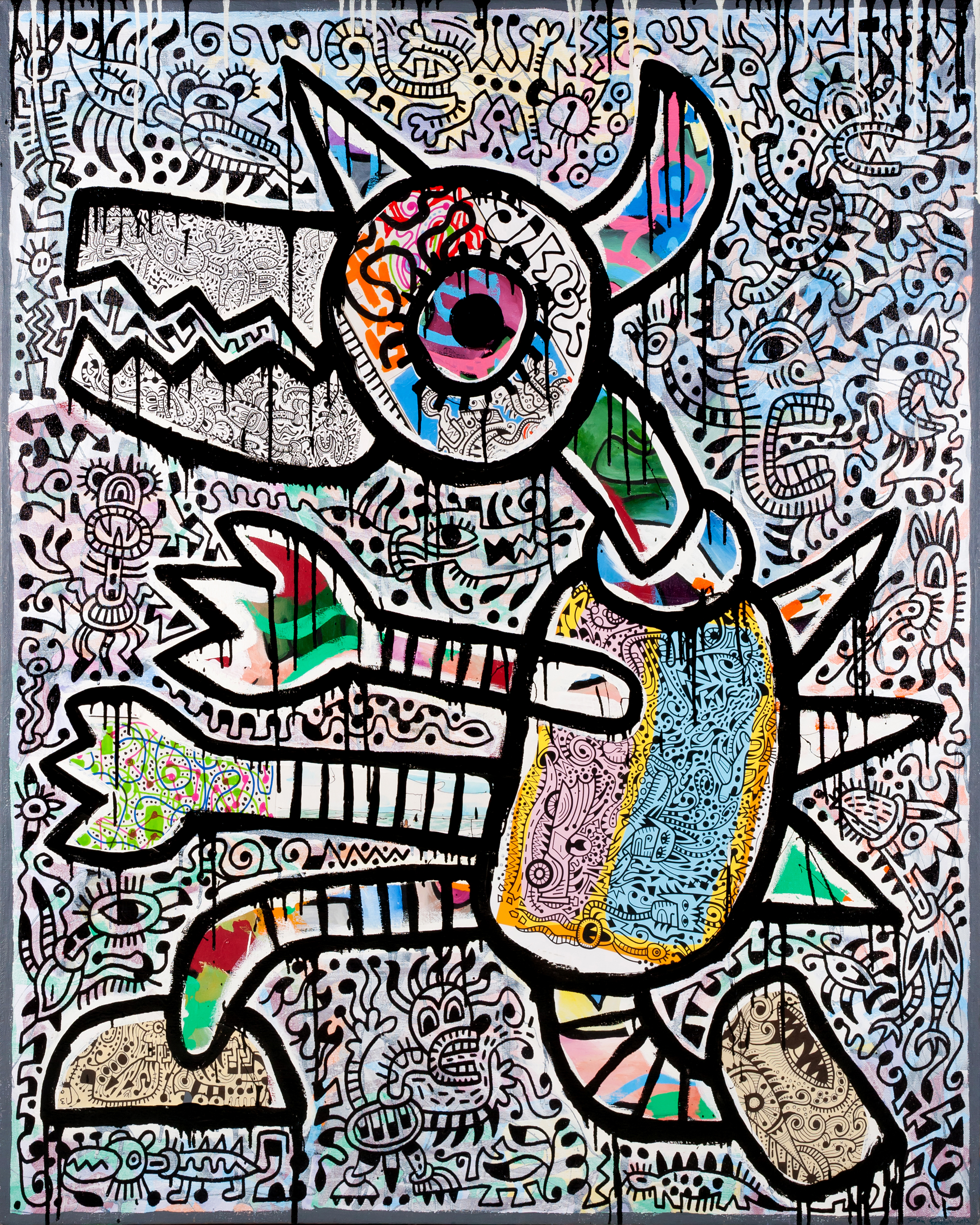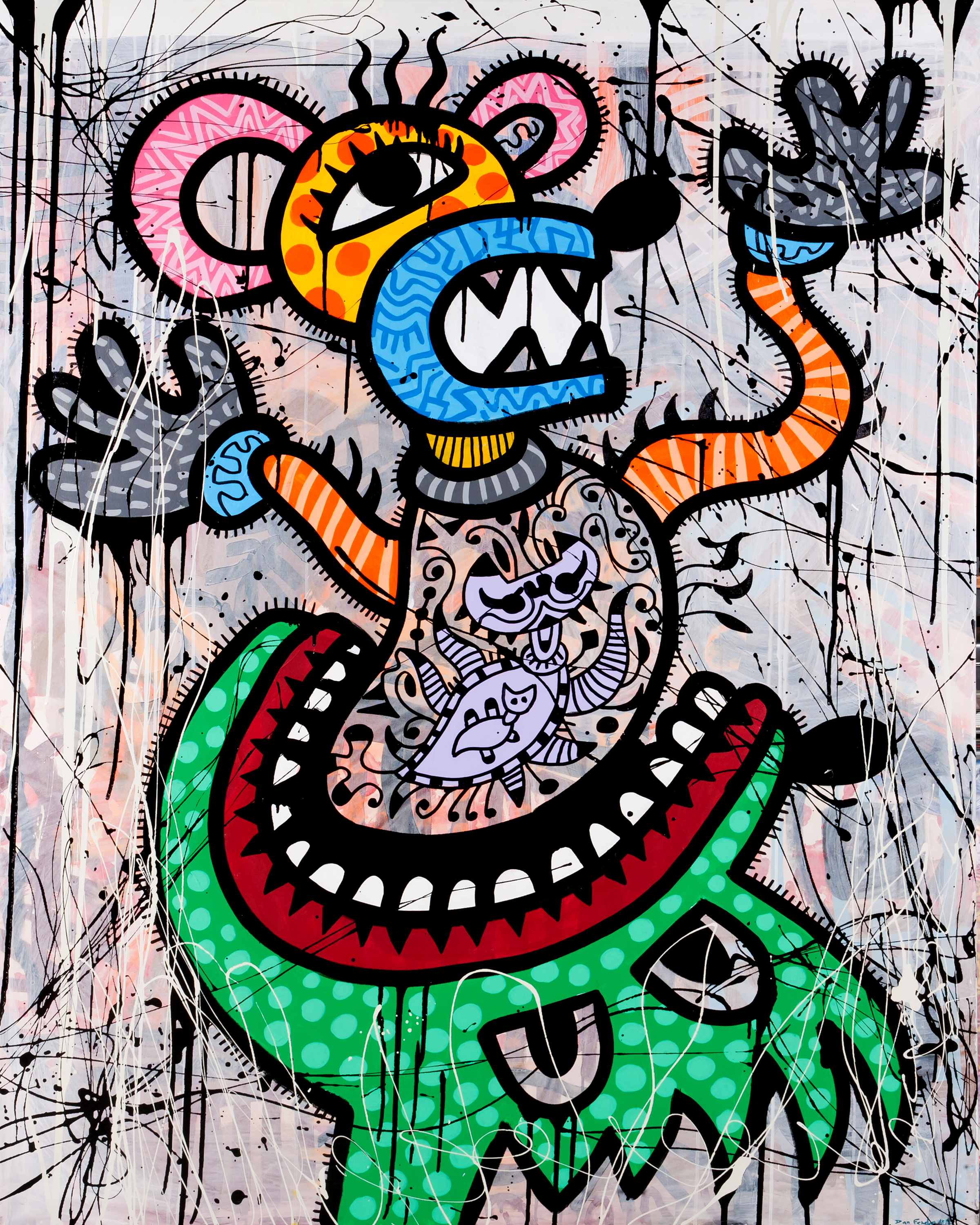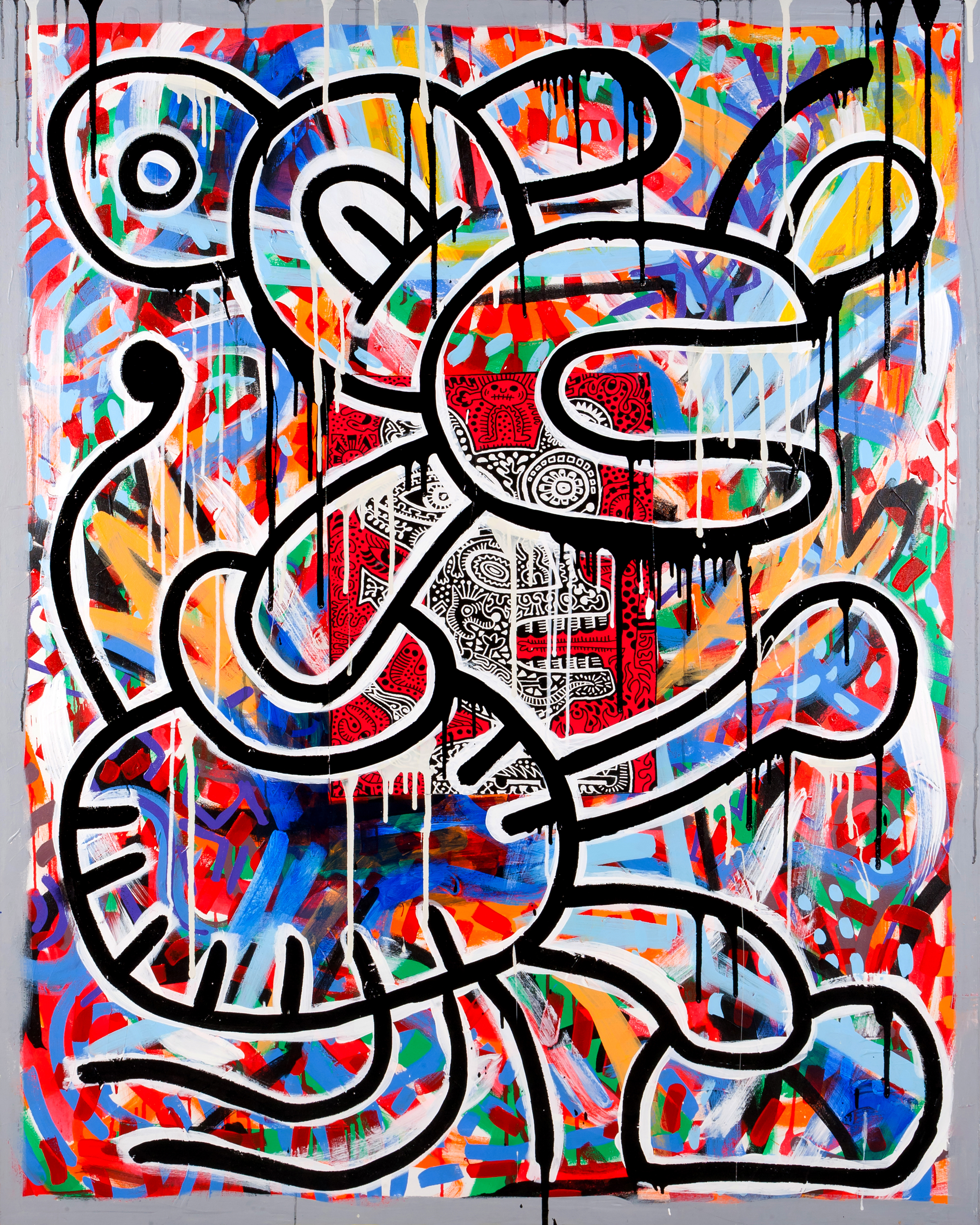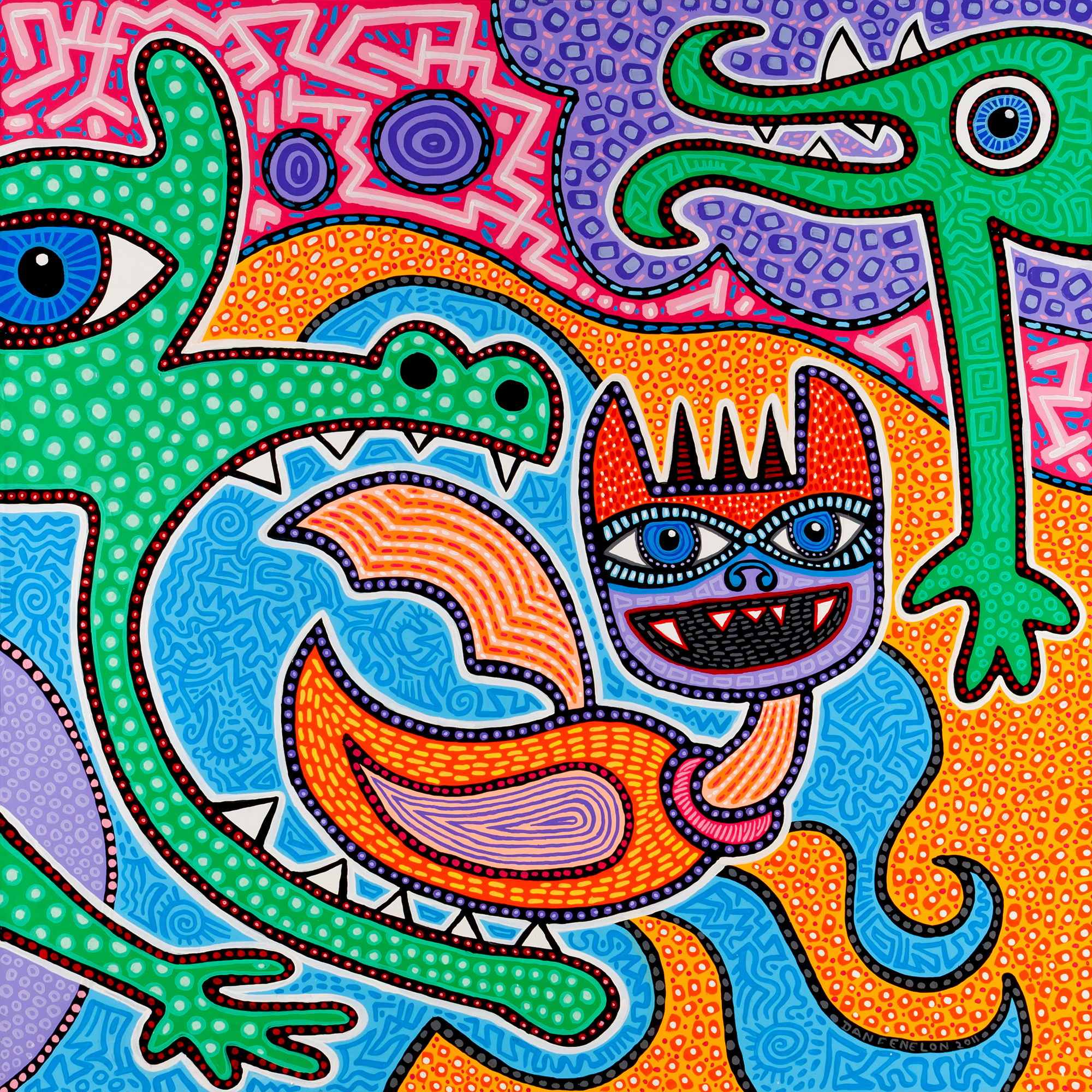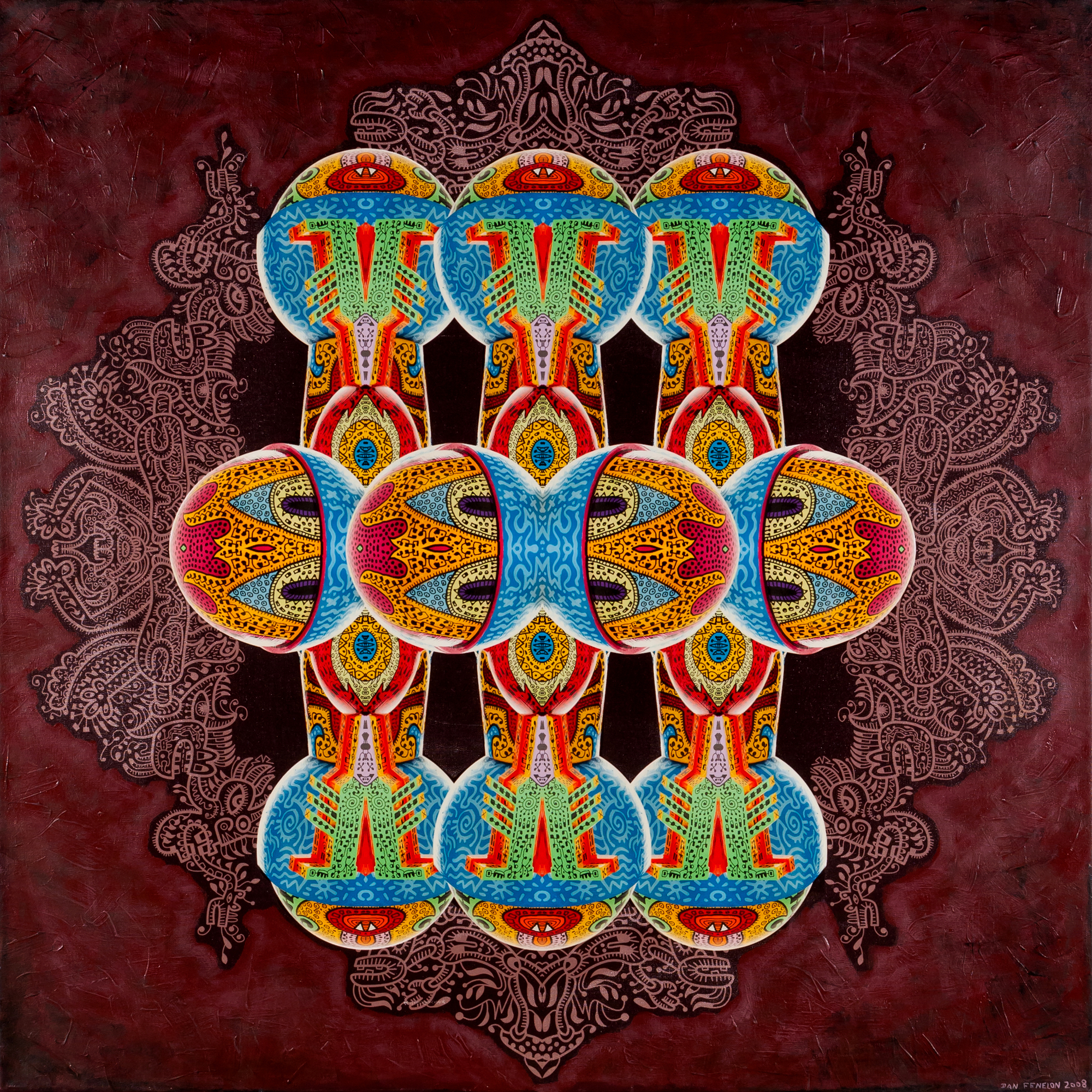 On view from April 12 – July 31, 2013, is PRIMAL CONVERGENCE, an exhibit featuring artworks by three NJ-based artists – the collaborative team of Gerard Amsellem & Mikel Frank, and Dan Fenelon, and is curated by Micha Hamilton.
Invoking the tribal, the transcendental and the mythic, PRIMAL CONVERGENCE is a collection of paintings, drawings, collages, constructs and sculptures. Simultaneously ancient and futuristic, tethered by their bold, explosive use of colors and immersive scale, the works of these artists exude a sense of the sacred and supernatural, eliciting an instinctual, visceral reaction and engaging the viewer in a transformative meditation of mind, body and spirit.
The large expressionist collage/paintings of Amsellem & Frank manifest as multi-paneled works combining the power of action painting with a nod to Japanese Shoji screens and Renaissance altarpieces. Important to these works is the spontaneous working process these two artists have established, allowing their individual creative sensibilities for art and life to translate into a symbiotic vision through process and palette, creating a third artist.
At the same time, the seemingly stream-of-conscious, figurative paintings, constructs and sculptures of Dan Fenelon are iconographic and totemic, and are evocative of talismanic and fetishistic art often associated with shamanic practices of archaic and indigenous cultures.
With a range of work alternately playful and profound, deliberate and serendipitous, one should be careful not to dismiss the primal as primitive, as it would negate the highly developed artistic knowledge and skill these artists have acquired through lifelong passion and practice. PRIMAL CONVERGENCE is a celebration of the connective, timeless expressions of the human spirit.
About Gerard Amsellem & Mikel Frank (Artists)
Gerard Amsellem and Mikel Frank are known for their collaborative project titled VISUAL PASSION, featuring large-scale, multi-panel non-objective expressionist paintings and collages applied to canvas and wooden door panels. Their collaboration evolved from a shared experience; the passing of loved ones. During the course of their collaboration they have created many works, most notably THE PASSING. THE PASSING was created in 2011 at GAS Gallery And Studio (Maplewood, NJ), and was presented as a live, one-day painting event open to the public. The event was documented with photos and video recordings showcasing their collaborative process and shared opinions on art, love, life and death.
For more information, visit www.visualpassion.net
A South Orange resident by way of Paris, France, Gerard Amsellem earned his Masters Degree in French Literature and Art History from the University of Paris. In addition to painting, he is also a filmmaker and educator, teaching French and World Film at Livingston High School in Livingston, NJ. Gerard's work has been exhibited in Paris, locally at GAS Gallery And Studio in Maplewood, NJ, and other notable galleries. In 2011, he produced and directed a short film titled "BARTLEBY", and he has established a successful film club called La Cinemateque.
Mikel Frank is a New Jersey native and holds a Master of Fine Arts Degree in painting from Pratt Institute, Brooklyn, NY. He has exhibited in shows and competitions throughout the country and his work appears in many private collections. Mikel is the creator and leader of an artist critique group called The Contemporary Artists Forum, and has been curator of the annual Contemporary Artists Forum Exhibition since its inception in 2002. He is a volunteer and executive board member of the 1978 Maplewood Arts Center in Maplewood, NJ, and has worked at the Metropolitan Museum of Art, N.Y., N.Y. since 1985.
About Dan Fenelon (Artist)
Influenced by modern art giants such as Basquiat, Haring, Picasso and Warhol, Dan Fenelon's art is an infusion of cartooning, graffiti, modernism, pop, tribalism and street art styles, marked by an explosion of colors and representational imagery. Utilizing traditional materials like canvas and wood, while also employing materials such as metals, plastics and found objects, Fenelon's works manifest as multi-layered, polyglyphic paintings and totemic constructs invoking the voices of civilizations past, as if they were glorious artifacts uncovered in an archaeological dig. He is known for his large, exuberant murals and paintings, as well as his collection of colorfully and ornamentally embellished vinyl dolls reminiscent of the Kachina Dolls found in the fetish art of the Native American cultures.
Dan Fenelon trained at The Art Students League of New York and the Museum School of Fine Arts in Boston. He has exhibited in more than twenty solo gallery exhibitions from Chelsea (NYC) to Los Angeles (CA), had a featured mural exhibit at the Montclair Art Museum and has produced giant murals nationwide. In 2010, Dan was commissioned by the Barat Foundation to create a large-scale mural to welcome the Dalai Lama to the Newark Peace Summit. He has produced work for professional sports organizations such as the National Hockey League (NHL) and Major League Baseball (MLB), and has recently partnered with the Critical Mass Brand to feature his designs on the company's surf and snowboard apparel available this spring. He lives and works in Madison, NJ.
For more information, visit www.wavedog.com
About the Herb & Milly Iris Gallery at SOPAC
The Herb & Milly Iris Gallery brings contemporary art to the community, providing artists opportunities to reach new audiences. The Gallery is designed for moviegoers, theater enthusiasts, art lovers, and all citizens of South Orange alike to have an opportunity to further enrich their cultural lives. The Gallery is the impetus of SOPAC Board Member Milly Iris, a South Orange resident and arts advocate. Mrs. Iris has an extensive art collection, is an art teacher, and is the former owner/director of South Orange's Whichcraft Gallery. Along with her late husband, Herb, Milly has been a longtime supporter of SOPAC.
 
About SOPAC
Since 2006, SOPAC has been serving as a premier performing arts center in the region. SOPAC offers innovative artistic and cultural experiences for diverse audiences in an intimate, inviting environment. The multidisciplinary arts center hosts a variety of live performances, community events and education programs for all ages. To further expand its offerings, SOPAC has a partnership with the Juilliard School of Music to present Juilliard @ SOPAC – a series featuring upcoming musicians from the acclaimed conservatory. SOPAC is also a home for Seton Hall University Arts Council's performances, including Classical Concert Series, Jazz N' the Hall performances and Seton Hall Theatre productions. SOPAC also presents performances by its theater company in residence, Midtown Direct Rep, and its dance company in residence, Lydia Johnson Dance. For more information, visit www.SOPACnow.org